Randy Smith (1972 – 1984)
Career Stats: 16.7 ppg, 4.6 apg, 3.7 rpg, 1.7 spg, 47% FG, 78% FT
Accolades: All-NBA 2nd Team (1976), 2x All-Star (1976, '78), All-Star Game MVP (1978)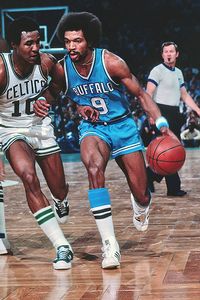 They now know exactly who Randy Smith is " a sleek, quicksilver fellow with a marvelous outside jump shot and incredibly fast hands that can catch flies in mid-air and steal hubcaps off speeding automobiles.
Via the February 7, 1978 edition of  "What's New, Harry?" by Phil Ranallo
The Los Angeles Clippers' disappointing history has obscured (and certainly wasted) much talent over the years. The taint of Sterling and the haziness of memory has also overwhelmed the Clippers' brief stay in San Diego and positively buried their ancestral home of Buffalo, New York. Only Bob McAdoo, by virtue of winning an MVP and three scoring titles, has managed to survive the purge of Braves memory. Well, today I'm here to reacquaint the world with the greatest Brave and, by extension, Clipper to have ever played: 6'3″ guard Randy Smith.
Smith was about as local a product the Braves could have drafted back in 1971. He was born on Long Island and later attended Buffalo State College for his collegiate ball where he averaged 23 points and 13 rebounds in four years. The Braves rather lucked into Smith's talent though, selecting him in the 7th round and not expecting much. Much to everyone's surprise Smith played his way onto the final roster during training camp in the fall of 1971 and he stuck around for a mighty long time. To this day, he is the Clippers/Braves franchise leader in 8 statistical categories: Games Played, Minutes Played, FG Made, FG Attempted, Assists, Steals, Personal Fouls, and Points.
Smith became the leader in these categories not because he produced out-of-this-world averages, although from 1976-79 you could put him down for 22-5-5 w/ 2 steals a game, but because of his unbelievable athleticism and conditioning that allowed him to breathlessly contribute nonstop. By some accounts he was able to do 360 dunks and by all accounts he could leap out the gym (he set the high jump record in New York State in high school) and throw down fearsome one- or two-handed jams. Teammate McAdoo sounded impressed 30 years later in an interview with the Washington Post:
"He's been probably one of the most athletic guys, and definitely the fastest guy that I have ever played with," said McAdoo, now an assistant coach with the Miami Heat. "Foot speed, forget it. He was the fastest that this league has ever seen. Period."
Such praise is unsurprising since Smith was an All-American in soccer and track in addition to basketball back at Buffalo State. This Olympian set of skills and endurance culminated with Smith setting an NBA record 906 consecutive games played between 1972 and 1982. A.C. Green has since broken the record, thus obscuring the one thing that might've still made Smith relevant to the average NBA junkie.
However, even during Smith's heyday in the 70s, his talent wasn't fully appreciated, only making 2 all-star teams. In 1978 he finished 10th in fan voting for All-Star guards. Thankfully, the coaches put him on the team and Smith erupted for 27 points, 7 rebounds and 6 assists in just 29 minutes of action off the bench on his way to MVP honors. Unfortunately, for Smith this would be his most well-remembered game.
There's no series of magic moments in the NBA Finals or even Eastern Conference Finals to look back on for Smith and the Braves. Together with teammates McAdoo, Gar Heard, Jim McMillian and Ernie DiGregario and coach Jack Ramsay the Braves surged to relevance between 1974 and 1976. However the Boston Celtics (twice) and Washington Bullets, blocked their path to greater glory.
During these years, McAdoo was obviously the Man, but Smith was certainly second in the pecking order. In particular, his 1976 postseason play was triumphant with  22.6 points, 5.8 rebounds and 8.6 assists while shooting 50% FG and 84% FT. The Braves even won a playoff series against Philadelphia only to be outmatched in 6 games to Boston in the next round. This would turn out to be the beginning of the end for the good times in Buffalo. Ramsay's departure and questionable trades of McAdoo and 1977 Rookie of the Year Adrian Dantley effectively foiled any long term hopes of success for Buffalo and they headed west to California.
Smith was on board for the 1978 transfer, but he was the only holdover from the brief glory years. With Randy, Swen Nater and World B. Free, the newly christened Clippers showed respectability in their inaugural campaign but fell into the all-too-familiar morass of losing the very next season. Smith was shipped back east to Cleveland that offseason for two seasons and another with the Knicks before returning to San Diego in 1983, but by then he was 34 and called it a career after that season.
Randy passed away two years ago and with that any chance he would be properly recognized by the Clippers organization for contributions to the franchise's history. Hopefully whenever Donald Sterling's vulturous vice on the club is broken, the next owner will do right by Smith and the rest of the Braves cadre. Until then, James Brown will have to close it on out for Randy…